Westover Hills
HISTORIC AND LOVELY, WESTOVER HILLS WAS GROUND ZERO FOR FORT WORTH'S CATTLE AND OIL FAMILIES DURING THE 1930'S AND 1940'S.
Most of the homes are architect-designed estate properties and many of them are hidden from view by large walls or mature landscaping. Developer A.C. Luther and renowned local architect Wyatt C. Hedrick began developing the land in the early 1930's after purchasing it from Amon G. Carter. Located just west of the magnificent Rivercrest/Crestline neighborhood, the land was extremely hilly and required homes of even grander size to match the scale of the terrain.
More like the Hollywood Hills than a typical Fort Worth neighborhood the place has a very definite feel of old money that was once very brash and young. In 2016 the neighborhoods of both Crestline and Westover Hills are bustling with construction vehicles as historic estate homes are being either dramatically renovated or scraped off the lots for new builds – some even larger and more opulent than the originals.
HOMES FOR SALE IN WESTOVER HILLS INCLUDE BOTH TRADITIONAL AND CONTEMPORARY LUXURY ESTATES.
What began with Luther and Carter's Fort Worth Extension Company resulted in a community of about 100 homes by 1940. In 1937 the citizens voted to incorporate as The Village of Westover Hills primarily to avoid paying taxes to Fort Worth. The City of Fort Worth cut off the water supply to Westover Hills at one point after residents stopped paying water bills in protest of being charged twice the rate of other areas. After the hard feelings subsided the water supply was restored at a more reasonable rate and the 212 residents of Westover Hills raised tax money to pave the streets during the 1940s.
Conventional wisdom had previously been that the area was too rocky and hilly for development and that anyone in Fort Worth who wanted to build a large estate home would rather do so in neighboring Rivercrest. Locals even referred to Westover Hills as "Leftover Hills". Despite the doubts and reservations young families flush with new money from oil and cattle lined up to build homes, many exhibiting timeless character and architectural style- from traditional Tudor and Mediterranean to modern and contemporary. Though mostly built out by the early 1950s a few other homes have slowly been added over the years. At the western edge the streets have been connected into the newer Ridgmar neighborhood where mostly executive-style ranch homes were constructed in the 1970's
In 1969 Fort Worth businessman Charles Tandy commissioned world-renowned architect I. M. Pei to design his family residence, now known as the Hunter Barrett house on the western edge of Westover Hills. There are over 30 Westover Hills residences listed in The Tarrant County Historic Resources Survey, including the Hunter Barrett house and Wyatt C. Hedrick's home on Westover Road.
Up-to-Date Statistics on the Westover Hills Area: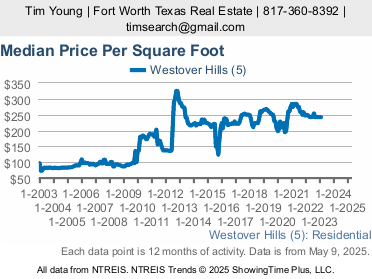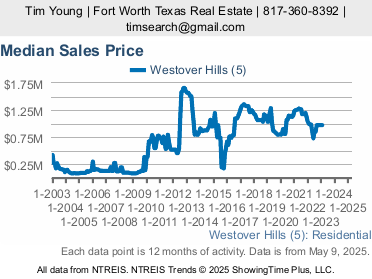 SPECIAL NEIGHBORHOOD FEATURE: ROY POPE GROCERY STORE
One of the sweetest benefits of living in Westover Hills is the closeby neighborhood grocery store founded in 1943 by Roy Pope. Now owned by Bob and Renee Larance, Roy Pope Grocery is conveniently located at 2300 Merrick, at the gateway to Westover Hills. Featuring fresh seasonal produce, gourmet selections, a full deli and wine selection, Roy Pope Grocery is above everything else an oasis of service and quality serving the special neighborhoods of West Fort Worth.
Westover Hills shopping opportunities not only include quick access to the shops along Camp Bowie Blvd, Central Market, Hulen and Ridgmar Malls, but also this gem of a neighborhood market that few other neighborhoods have. If you are on the fence about buying a home in Westover Hills just drop by Roy Pope and you will definitely want to live in a nearby neighborhood!
Helpful Links:
See Homes for Sale in Westover Hills: