Rivercrest & Crestline Homes
Rivercrest is the Location of Fort Worth's Grandest Historic Homes
The Rivercrest neighborhood is a small section of estate homes built around The Rivercrest Country Club which was established in 1911. The establishment of the U.S. Army's Camp Bowie during World War I brought new development along Camp Bowie Boulevard which extends from West 7th Street through today's "Cultural District" and westward to Arlington Heights and Ridglea.
Up-to-Date Statistics on the Rivercrest and Crestline Neighborhood: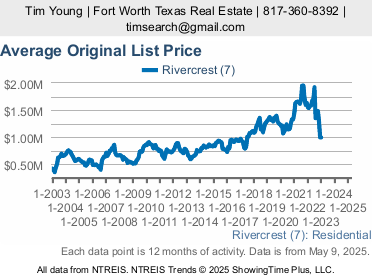 The Rivercrest development which lies just north of Arlington Heights is part of a larger very affluent section of west Fort Worth which includes the neighborhood of Northcrest and Monticello. Less grand, but no less lovely are the nearby neighborhoods of North Hi Mount & Crestwood where executive homes were built in the 1920's and 1930's.
There are a number of historic homes within Rivercrest and the surrounding neighborhoods including a few grand houses dating as far back as 1893.
Contact Tim D. Young, Owner/Broker at 817-360-8392.
Current Listings in the Rivercrest and Crestline Area