Montserrat West Fort Worth Estates
Some of the most majestic homes in Fort Worth are located in Montserrat. The elevation of this community perfectly captures both the western sunset and the view of Fort Worth spread out to the east. Many people are unfamiliar with the neighborhood because it is isolated and gated, so unless you have received an invitation from a resident, you may never have been behind the gates.
You have probably seen it though as you drive South along SW Loop 820 near the Chapin Road exit, just past Highway 80 West. Look up at the jagged cliffs towering above Mary's Creek to your right. The large and beautiful homes along the ridge are on the Northern edge of Montserrat's 30 acres. Homes for sale in Montserrat include both new-builds and pre-owned.
Montserrat is a community of large estate homes set on very large lots. Building standards require that the homes built in this community preserve and enhance the natural surroundings.
There are two beautifully maintained park areas; the smaller 2 acre park is called Ridgetop Park, and the larger 17 acre nature park is known as Sagrada Park. The parks include naturalistic paths along the banks of Mary's Creek, a stocked fishing pond and lighting so that the areas can be enjoyed at night.
There is also a sports court with tennis net and basketball goal.For several years the property that is now the Montserrat community was owned by Texas Wesleyan University, which planned to relocate their campus from the Polytechnic area. As the plans began to move forward however, community leaders put pressure on Texas Wesleyan not to abandon the inner city so they decided to sell the property. The Serrat family purchased the property and shortly after began development of this premier community.
Design standards include all masonry roofing materials, minimum living space of 3,000 square feet, strict landscaping and other aesthetic requirements.
Tim D Young has provided the following Montserrat documentation for your review.
Up-to-Date Statistics on the Montserrat Neighborhood: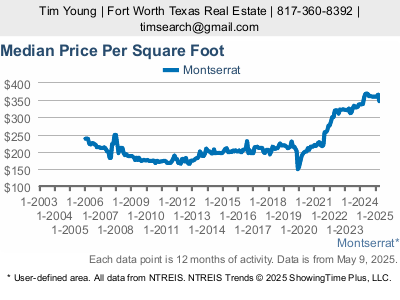 Contact Tim D. Young, Owner/Broker at 817-360-8392.
Current Homes for Sale in Montserrat: