Mira Vista Homes
SEE THE VIEW (MIRA VISTA IN SPANISH)
In 1987 the last major country club in Fort Worth opened as the centerpiece of The Mira Vista Golf Course community. The member-owned country club offers a championship 18-hole golf course, 8 tennis courts (2 indoor), pool and club facilities suitable for individual dining or large special catered events.
The residential neighborhood of Mira Vista is gated and guarded 24-hours a day. Just 7 miles southwest of downtown Fort Worth the community has become even more popular now that the Chisholm Trail Parkway connects it directly to downtown. The community is so large that the trip from downtown to the front gate takes about as long as the trip from the front gate to the back of the Mira Vista neighborhood.
Historically, the property lies within the boundaries of the former Rall Ranch which was established in 1917. Old Homestead Road in Mira Vista is built at the location of the Rall Ranch House which was torn down in 1994. Originally a parcel of over 2,500 acres, 600 acres are now covered by Lake Benbrook since the dam was completed by the Army Corps of Engineers in 1952. Other parts of the ranch went to build Pecan Valley Golf Course, a municipal course operated by the City of Fort Worth.
In 1980 the ranch was sold to developers who intended to build a golf course community. Economic circumstances put the development in the hands of The Resolution Trust Corporation (RTC) in the 1980s. The late Richard Rainwater purchased the development in 1991 and development picked up dramatically until the homeowner's association was turned over to the residents in 2008.
Up-to-Date Statistics on the Mira Vista Community: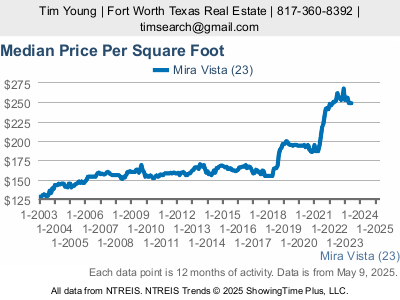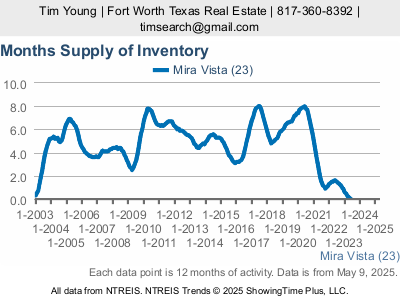 Mira Vista has a Variety of Home Styles & Sizes
Mira Vista is a premier luxury community with residences of 10,000+ square feet situated on magnificent vistas (see the view). The community has luxury residences in smaller scale as well including garden homes near the front gates of the community. Just north of Mira Vista,  Hawthorne Park Estates and Monarch Hills were also developed out of the Rall Ranch Land. These neighborhoods offer the same close proximity to downtown via The Chisholm Trail Parkway.  There are also two smaller gated communities south of Mira Vista: Vista Ridge and Trinity Heights.
The location of the Mira Vista area communities could not be better, with access to employment, commerce, shopping and recreation in Southwest Fort Worth.
Fort Worth Texas Real Estate, LLC has experienced luxury agents who are familiar with these communities. Give us a call when it's time to buy or sell a luxury home in southwest Fort Worth. Tim D. Young is not just a luxury agent but an experienced Texas Real Estate Broker who utilizes the latest technologies and a team of full-time luxury specialists to bring the highest level of professional service to each luxury real estate transaction.
Contact Tim D. Young, Owner/Broker at 817-360-8392.
Current Listings for Sale in Mira Vista: